water treatment, desal, & nature
Arlos Anderson Owner of Blue Lotus Water Technology
My work with water began when my father was the civil engineer in Okinawa after WW2 designing the under ground fuel storage tanks water treatment and waste treatment plant for the Marine and Air Force base. My father was the civil engineer later on at the Jungle Boat cruise at Disneyland and at Marineland of the Pacific. Spending more time in the ocean than at school sealed my future. Hunting abalone from age 7, diving every minute of day light possible, I knew from an early age I want to work in, on and around water.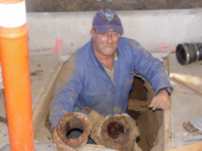 Arlos Anderson
Fast forward... When I left the navy, I spent the better part of a year working in Mexico, helping to build an Orphanage. Hand digging a well and septic system made me appreciate even more the things in the US we take for granted, access to clean water.
Virgin Gorda, British Virgin Isles
One day I got a call to work out of the area and before I knew it, I spent a winter working in the British Virgin Islands building desalination plants. Living and working in a place where water has to be manufactured makes you appreciate the few remaining places where clean healthy water is still available.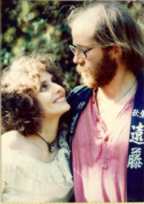 Judy and Arlos
The first place my wife and newborn son lived in had such poor water quality that you couldn't see your hand in the water because of iron. I was determined from that time on I would learn everything I could about water and water treatment.
In the British Virgin Islands I began to notice even though there was ample water available after we built several desalination plants to supply Virgin Gorda that waste treatment was virtually nonexistent. I noticed that certain types of plants thrived around leaking septic tanks in the tropics. When I arrived back in California it would be several more years of study and work before I had developed a system of water recovery using a plant based systems.
During the course of designing and building water treatment systems for clients, I've realized many types of treatment cannot be applied due to either cost or waste by-products and many times the technology exceeds the application. The idea is to attempt to clean water as close to nature as possible with a reduced need for chemicals.
Arlos Anderson
Owner of Blue Lotus Water Technology
Navy Veteran
Education in English Literature, Architecture, Civil and Mechanical Engineering
Licensed Plumbing Contractor
Trained Chef
Musician
Metal Artist
Volunteer guide and Aquarist for the Monterey Bay Aquarium